Posted by Jeff Cooperman on 29th Jul 2014
One of the many great things about the Luggie scooter is that it is completely airline safe! It's fast charging lithium battery is FAA and TSA approved.
We sell 99% of all travel scooters on the market and in our professional opinion, the Luggie is the best for airline travel. Indeed so many of our happy customers buy the Luggie just so they can take it with them on their vacations overseas or cross country. The Luggie makes this convenient, easy and fun.
I'd like to give you some tips on the best and safest way to take your Luggie with you when vacationing by plane.
Tip #1: Ride your Luggie all the way to the Gate.
This is usually most convenient for people since you let the Luggie do what it does best – act as your trusty steed and companion and zip you along smoothly and stylishly from point A to point B. Of course you could also wheel it along folded like a travel suitcase if you prefer.
Tip #2: Don't Check In Your Luggie with your Luggage.
The Luggie is very liable to get damaged this way. Unfortunately the reality is bag handlers, as we all know, don't always handle our bags with the utmost of care and caution even when something is marked or appears fragile. If you do happen to have a very durable protective hard case and make sure the Luggie is padded inside, then check in is an option.
Tip #3: Remove the Battery, Fold Your Luggie in the Flat Position & Give it to the Attendant.
After arriving at your gate, remove the battery from the scooter and place it in one of your carry on bags. This will avoid the concern that some attendants have that the scooter may accidentally turn on mid flight.
Folding your Luggie into the Flat Position is simple and takes only a couple seconds. You can see this pictured below. Lower the tiller handle into the floorboard and fasten. Then fasten the side latches to lock it in position. Next lower the seat. That's it!
This is the Flat Position: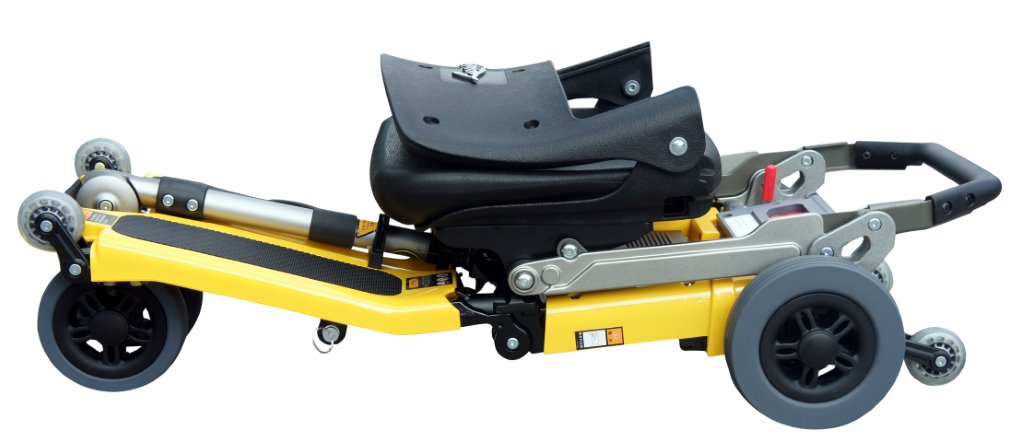 In this position, your cherished Luggie's vital components are protected. The seat actually doubles as protection for the tiller head, which houses much of the Luggie's essential and advanced electronics.
This useful tip is also the safest way to transport your Luggie in any situation.
After giving your Luggie to the attendant, they will then put it in a special compartment with the baby strollers and wheelchairs and give it back to you at the arrival gate once you land. Viola!
Tip #4: Have Fun & Enjoy your Vacation!!